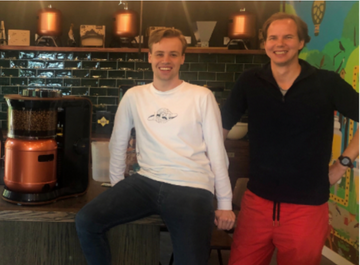 About MiniBrew
MiniBrew is a hardware-enabled beer e-commerce platform creating a more tasty and convenient brewing experience at home, the office and restaurants while eliminating glass bottles.
Why are we here?
The big brewing companies don't inspire us anymore. It's become a sea of sameness with no clear vision to the future. We tend to forget that the most iconic craft beers have been brewed in a garage or at home first, before they become widely available.
MiniBrew is here to bring back the optimism to help other create iconic beers. So it can stand for progress and passion to bring again. At MiniBrew, we believe in a world without barriers between people personal preference and technology. We believe in a future where every person can create a delicious beer.
Where MiniBrew is doing for beer what Dyson did for vacuums and what Nest did for homes. Rethinking technology and connectivity for better results.
Our Mission
Our mission is to make Brew It Yourself more fun and accessible so we are proud to share with friends and family the future of iconic beers.
Company history
MiniBrew was founded in 2015. On the picture you see Rolf van der Vlugt (left) and Bart van de Kooij. MiniBrew has completed two successful crowdfunding campaigns on Indiegogo and successfully raised EUR 11,5 million to complete the R&D phase and launch the 1st and 2nd generation of devices. The team is working on a brand new 3rd generation, new brew packs and expanding their beerprint in the world.
Unlike other products on the market, the revolutionary, brilliantly WiFi connected MiniBrew Craft beer Maker effortlessly crafts the freshest pale ale, IPA, lagers and more all from the touch of an app (iOS / Android) or web-based browser

Built with pre-programmed recipes and customizable brew settings, MiniBrew makes microbrew level beer using its patented circulation brewing technology. Additionally, the brand defines a new way of serving your beer direct from the keg using in-built cooling technology

MiniBrew also offers a unique recipe community where consumers can discover user made and brewery recipes from all over the world at their fingertips.


Our Product History
We've been building and improving our market leading beer machines since 2017.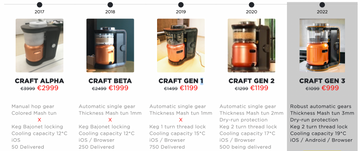 OUR SATISFIED CUSTOMERS
300 000+
Beers brewed by MiniBrewers
12 000+
Original craft beer recipes created
3 400+
Machines delivered since 2017